02-16-2012, 03:59 PM
1st Gear

Join Date: Feb 2012

Posts: 4

Level up: 76%, 24 Points needed
Turn Signals Not Working - Audi A4
---
To Whom It May Concern,

I have a 1998 Audi A4 with almost 130,000 miles on it.

The other day, I got in the car to go to work, and I noticed that my turn signals did not work. The hazard lights button does not work either.

I replaced the fuse for the turn signals, but they still do not work.

Everything else works: dashboard controls are functioning, headlights, and rear lights work, everything else works fine.....

How do I get my turn signals working again?!?!?!

Thanks,

Tim
02-18-2012, 08:57 PM
| | | | |
| --- | --- | --- | --- |
| | Administrator | | |
---
Change the hazard switch - very common, well-documented problem on these cars.
__________________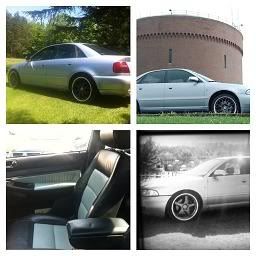 ImTheDevil / 1999 30vqm
02-19-2012, 10:39 AM
1st Gear

Join Date: Jan 2012

Posts: 12

Level up: 14%, 43 Points needed
---
Quote:
Originally Posted by
TimTim7838
To Whom It May Concern,

I have a 1998 Audi A4 with almost 130,000 miles on it.

The other day, I got in the car to go to work, and I noticed that my turn signals did not work. The hazard lights button does not work either.

I replaced the fuse for the turn signals, but they still do not work.

Everything else works: dashboard controls are functioning, headlights, and rear lights work, everything else works fine.....

How do I get my turn signals working again?!?!?!

Thanks,

Tim
did you check the blinker fluid? this might just fix it.
Blinker Fluid [BF-01] - $8.99 : KaleCoAuto, Hard to find automotive items!
Tags
1998, 28, 98, a4, audi, blinkers, doesnt, drivers, rear, side, signal, switch, turn, work, working
| | |
| --- | --- |
| Thread Tools | Search this Thread |
| | |
Posting Rules

You may not post new threads

You may not post replies

You may not post attachments

You may not edit your posts

---

HTML code is Off

---