GB Feeler: Ksport Control Pro Coilover Suspension
07-26-2006, 12:10 PM
Join Date: Jul 2006
Posts: 2
GB Feeler: Ksport Control Pro Coilover Suspension
---
Alright guys, here it is, the moment we have all been waiting for. I have a hookup at majormods.com and he wants to test the interest in the Audi crowd. You can check his feedback on thevboard.com, sr20forums.com, and b15sentra.net under the name majormods or 2kblackse!!!
We are starting with th Ksport Kontol Pro Coilover kit!!!
Prices can't be disclosed via this thread so PM me for pricing.
Best part is NO MINIMUM BUYERS!!! PM ME
Spec's and Pics
Key Features:
36-way adjustable dampening
Made from high quality 6061 Aluminum with T6 for increased hardness
Compression/Rebound adjustable
Adjustable spring perch for height adjustment
Adjustable body allowing maximum suspension travel
Pillow Ball Top Mount w/ adjustable camber (not available for some models)
Monotube High Pressure Design reduces oil leakage
Electroplated body for protection from corrosion and rust
One Year Limited Warranty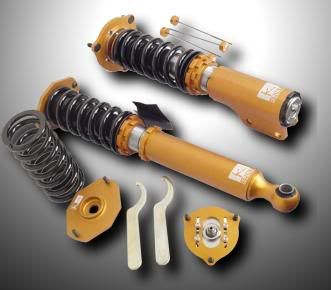 Thes are models we have ksports available for
A3
A4 (b5 and b6)
A6 (2wd)
S3 (awd)
TT (2wd and awd)
Guys this is just GI! If enough interest we will be taking orders!!!
Pm me for pricing on these!
Thread
Thread Starter
Forum
Replies
Last Post