Group Buy: Carbon Fiber/Fiberglass Hoods
09-22-2007, 02:19 PM
Join Date: Sep 2007
Posts: 6
Group Buy: Carbon Fiber/Fiberglass Hoods
---
Hey Everyone,
My name is Danny with RevLine Customs. First off, Great Forum. This is my first group buy on Audi Forums, but I hope it goes well. This group buy will end September 30th. All orders must be paid in full by Oct. 2nd. Dont Worry if you miss out on this one I will start another on Oct.1st. I want to run a new one every two weeks or every month I have not decided yet. If you have any quesions, or would like to suggest any product for next months group buy please PM me or email me at
[email protected]
. Also I have a group buy running in other places for door kits, but I know not many Audi enthusiasts do not like door kits on their Audi, nor do I. But if you are please contact me and I will set you up. Price do not include shipped. Shipping will be $150 and will be shipped freight, I will try to work on shipping prices depending on number of hoods we sell.
If you are looking for a hood, trunk, bumpers, etc. for your Audi, please contact me and I'll do what I can to add it to this Group Buy.
Audi A4 96-01/S4 00-02 1-2 3-4 5+
C-Wings Euro R Carbon Fiber Hood$529 $519 $509
GTPEuro R Fiberglass Hood $294 $284 $274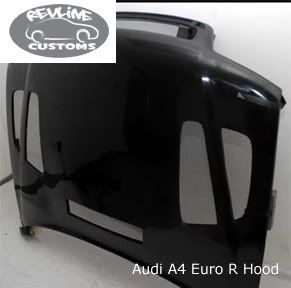 1-2 3-4 5+
C-Wings OEM Carbon Hood $444 $434 $424
1-2 3-4 5+
C-Wings Vader 6 Carbon Hood$529 $519 $509
GTP Vader 6 Fiberglass Hood $294$284 $274
Audi A4 96-01
1)
2)
3)
4)
5)
Audi A4 02-05 1-2 3-4 5+
C-Wings Euro R Carbon Hood$529 $519 $509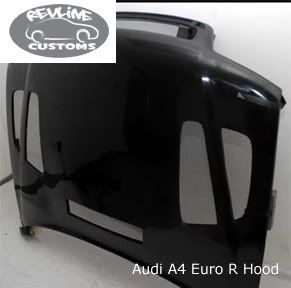 1-2 3-4 5-6
C-Wings OEM Carbon Hood $444 $434 $424
(sorry no pic available)
C-Wings Vader 6 Carbon Fiber Hood$529 $519 $509
GTP Vader 6 Fiberglass Hood $294 $284 $274
Audi A4 02-05
1)
2)
3)
4)
5)
Thanks everyone, again if you have any questions please PM me or email me
[email protected]
Danny,RevLine Customs
09-30-2007, 11:39 AM
Join Date: May 2007
Location:
Posts: 163
RE: Group Buy: Carbon Fiber/Fiberglass Hoods
---
well scratch that above post probably cause i wont let it go that im savin money get the cf hood so my mom finally said if u come up with prices and the estimated total for the cf hood purchase and if i can install it myself (which i can) compared to the over $1000 estimate from the auto body place so ill let u know out come
01-14-2008, 12:40 PM
Join Date: Aug 2007
Posts: 2
RE: Group Buy: Carbon Fiber/Fiberglass Hoods
---
It's been a couple months, but I'm new to this forum. How much would it be to ship a B6 OEM CF hood to the UK? Postcode IP279DH, or to Stansted airport, near London? Or possibly Norwich? Also, do you have any better pics of the hoods and weave? I'm very interested, and if you could ship to my APO box on base, that would be great. But I know these are too big for that.
-Tim
Thread
Thread Starter
Forum
Replies
Last Post