Member Rides
10-29-2008, 05:02 PM
Member Rides
---
This is a thread dedicated to the rides of AUDIFORUMS.COM members. When Posting your ride please
a) Only post cars that are yours, if you have a friend who wants to post his car make him create an account!
b) No comments, everyone should only have one post for their car and one post only.
c) Include videos, pictures, mods etc.


Enjoy!
11-04-2008, 10:34 AM
Join Date: Aug 2004
Location: near Boston, MA
Posts: 437
---
2002 A6 4.2 with a "few" RS6 parts (sideskirts, SE exhaust, rear spoiler, seats, alcantara headliner, carbon fiber trim, mirror housings), S6 grilles, H-sport sways, RNS-E navigation with intergrated OEM bluetooth and DVD/TV video-in-motion, forged Volk Progressive ME wheels (18x8.5 ET31), clearcorners, smoked tails, tint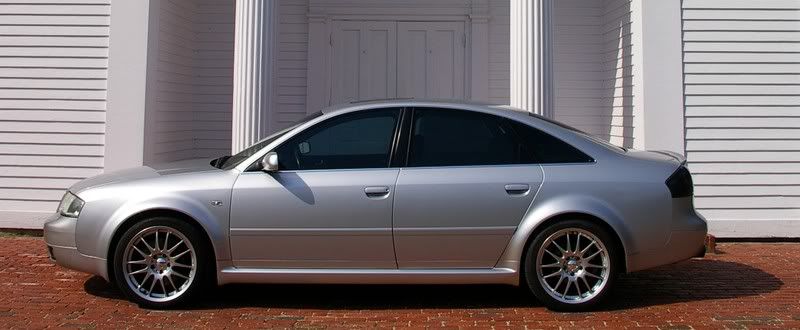 11-04-2008, 11:08 AM
---
Sweet, A6 show off thread!!!!!
Hella smoked tails, lip spoiler, no front lp, Remus, K&N, 20% tint, blue calipers, VAGCOM engine/tranny recodes, polished control arms.
Coming soon: VAST intake spacers+electric fan, 18x8 R8 reps, Febis, Hsport sways, HR springs, biltsien shocks,S6 mirrors.
the exhaust:
http://www.youtube.com/watch?v=aTlua-BUCBM
http://www.youtube.com/watch?v=QCEKj_gUCno
http://www.youtube.com/watch?v=zC6w4jZ4y1E
-sound starts at 50 secs.
---
Last edited by 2001A6; 11-19-2008 at

05:22 PM

.