R.A.I. Motorsport in Baltimore, MD is THE SOURCE for OEM/Performance Parts.
06-16-2010, 10:38 AM
Join Date: Feb 2010
Location: Baltimore, MD
Posts: 358
R.A.I. Motorsport in Baltimore, MD is THE SOURCE for OEM/Performance Parts.
---
R.A.I. Motorsport is the source for all your Audi needs. We are the source for timing belts, brakes, and other maintenance items that you may need. Call us after you shop around to get the lowest prices and best customer service.
Here is a quick look at our shop, a 10,000 square foot facility with 5 lifts and brand specific tools to ensure that the job is done better than the dealership.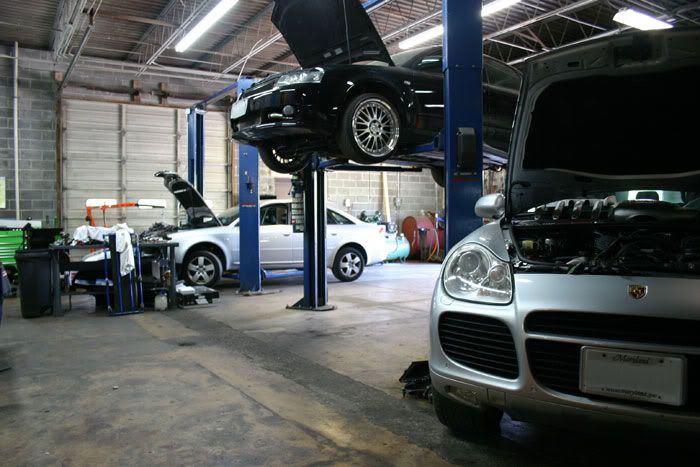 Our technicians have years of experience working on European Vehicles, like Porsche, BMW, Audi, Volkswagen, and others. The job is always done right the first time. Our labor rate is $85/hr, easily one of the lowest in the area, about 33% less than the dealership. Here is one of our technicians inspecting the pistons of an Audi 2.7T engine.
We carry parts for all European vehicles, which we either stock, or can get same day, to ensure that you are out on the road quick as possible.
In addition to our maintenance and repair, we also offer a full line of performance products for European vehicles, as well as a Mustang Dynamometer and Unitronic Tuning. As part of our performance division, we also do Custom Fabrication, from the smallest exhaust work, to completely custom engines and performance parts.
Audi A4 1.8T with "Big Turbo" upgrade doing some dyno testing
Our R.A.I. Motorsport Supercharged B6 S4, the fastest Supercharged 4.2L to date.
A 1.8T head on the bench for disassembly
Give us a call or stop by the shop
3916 North Point Road Unit G.
Dundalk, MD 21222
(443)242-6436
www.raimotorsport.com
Thread
Thread Starter
Forum
Replies
Last Post