Heater core replacement, I'm doing it.
10-18-2013, 10:19 PM
Join Date: Oct 2013
Location: Seattle, WA
Posts: 550
Update #1
---
Update!
time: about 1 hour
thoughts: nothing too bad so far. just find the next bolt, remove it, put it in a sandwich bag labeled where it came from, go to next bolt
questions: nothing major so far, a little trouble finding how to get the center dash apart but Ill worry about that more after I get the steering column down.
10-19-2013, 01:52 AM
---
Looks good.

To remove the console you have to remove the rear section first. Beneath the rear ash tray you'll find a nut you need to remove, near the front of each seat are two more 8mm bolts. Remove the ebrake handle covers and the rear section slips over the ebrake. The console is held in with a number of 8mm bolts/nuts. 4 or so should be visible from the front, there is one more hidden down in the driver footwell. Remove the shift boot, put the car in 4th gear, and slip the console over the shifter.
10-19-2013, 10:03 AM
---
Yea it seems odd, but that job starts with you sitting in the back seat. Best advice I can give you, get an adapter for your cordless screw driver that turns it into a 1/4' drive ratchet. You will spend all day today spinning off 8mm bolts. It gets tedious using a ratchet.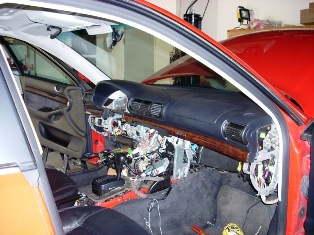 10-20-2013, 09:22 PM
Join Date: Oct 2013
Location: Seattle, WA
Posts: 550
---
Update #2
elapsed time: about 4 hours
broken pieces: 2
thoughts: ran into some issues but managed to get most of them out of the way. Glove box was more of a PITA than I expected. Also, the amount of bolts and frame pieces holding the passenger airbag in was ridiculous, I may not find homes for them when it all goes back together.
questions: How the hell do you get the steering column to fall? I got the 4 major bolts holding the column up but there are still two (?) bolts holding it at the top near the dash. There's two little torx bolts in there that may be them, but there's no way they're coming out with so much in the way, I can't even fit a bit in there. Picture of offending area:
this is where it's still connected but I can't find how
update pics:
10-20-2013, 09:28 PM
---
Yeep. I remember the two little torx bolts you're talking about. They gotta come out. If it makes you feel any better, its even harder get them started to put them back in than it is to remove them. If I recall, it helps to have a torx screwdriver-type tool to get up in there to get those two up ar the top of that trim piece.
10-20-2013, 09:43 PM
Join Date: Oct 2013
Location: Seattle, WA
Posts: 550
---
Yeah I was worried about that. Well it's easier to get started when I know those are indeed the bolts.
I'll go to work tomorrow where I have a small tool kit with torx-screwdrivers that may fit in the area.

Thanks for confirming!
10-21-2013, 01:16 PM
Join Date: Oct 2013
Location: Seattle, WA
Posts: 550
---
oh sonofa, I forgot to drain the freon before I got started. Any ANYway to do this without draining it? Mind you I'm just pulling the core, not pulling out the entire HVAC box.

I really dont want to have to get it towed to a shop, drained, then towed home.
10-21-2013, 04:41 PM
---
You do
not
have to pull the HVAC box all the way out of the car to swap the heater core. But you
do
have to pull it away from the firewall, and that means opening up the refridge lines.