How to find a boost/vacuum leak
07-27-2010, 07:52 PM
How to find a boost/vacuum leak
---
I know there are a few how to already on this but I just wanted to show how easy it is when you make this piece from the a4mod site.
Follow the directions to make the part here.
http://www.a4mods.com/index.php?page...boostleak.html
then watch this: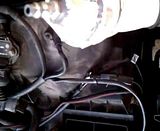 and I know I use hard technical term like "this little guy" and "dohicky"
Thread
Thread Starter
Forum
Replies
Last Post