Introducing the ECS Audi B8 S4 Valved Cat-Back Exhaust
01-03-2019, 11:20 AM
Introducing the ECS Audi B8 S4 Valved Cat-Back Exhaust
---
The wait is over, introducing the ECS Audi B8 S4 Valved Cat-Back Exhaust
Click HERE to skip reading and check it out ECS Audi B8 S4 Valved Cat-Back Exhaust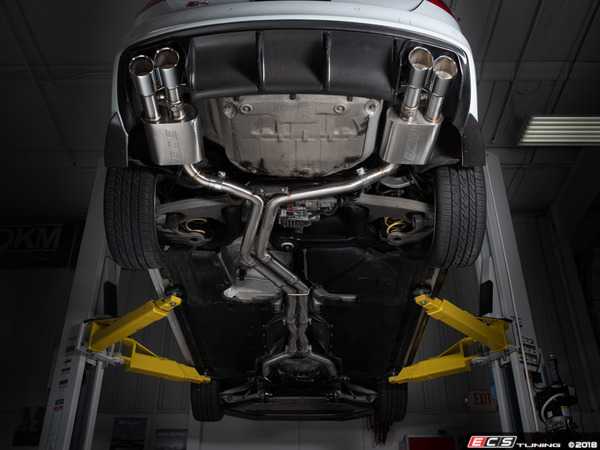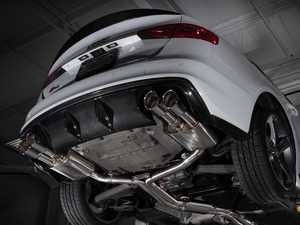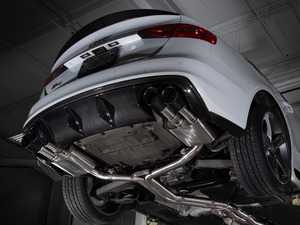 The ECS Audi B8 S4 Valved Cat-Back Exhaust
True automotive passion can come in many varieties. For us, we've found driving euphoria with our ECS Valved Exhaust System.
Embrace your automotive driving passion with the most engaging, race-inspired, performance-valved exhaust system.
Intoxicating exhaust notes fuel your desire to push your engine to its limits with every ounce of power and every engine revolution.
Experience true driving passion with our ECS Valved Exhaust System and control your driving experience with our valved muffler design.
The full exhaust system is made from high quality brushed T304 stainless steel with TIG welded joints for an exceptional look and durability.
Exhaust gases are channeled through the integrated x-pipe, your choice of a resonator or a resonator delete section, and then to the 3 chamber in-house designed mufflers where you, the driver, are in control of where the exhaust gases go from here.
With the valves open, we showed gains of 19 WHP and 16 WTQ on our B8 S4 equipped with a Kohlefaser Luft-Technik intake and a stage 2 tune with pulley!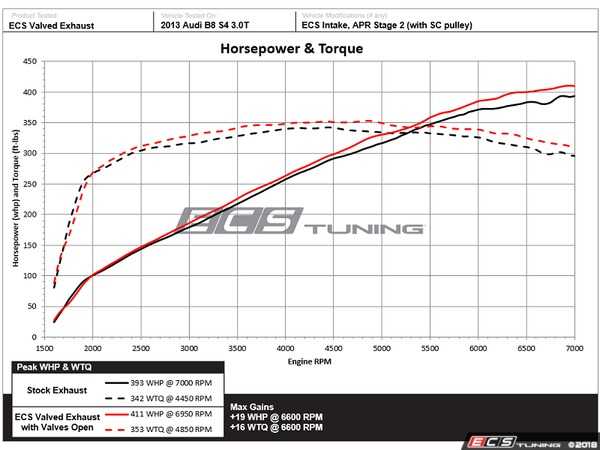 In normal, comfortable driving conditions, the valve remains closed and exhaust gases are directed through the channels of the mufflers, where sound reduction takes place.
To quench your passion for sheer driving pleasure, simply pressing the "valve open" button on the remote key fob unleashes a straight-through, raw, unedited exhaust symphony.
When the pneumatically actuated exhaust valves open, exhaust gases are channeled directly through the valved sections of the mufflers for an unrestricted, passageway.
For complete integration the valve control remote can be paired with factory intsalled HomeLink for seemless intergration.
Each system is available with your choice of either chrome or black chrome, clamp-on, "pivoting" exhaust tips that accentuate to the pinnacle to this expertly assembled exhaust system.
One of the many features of our system is the ability to adjust its fitment to your visual pleasure.
With clamps securing each tube in position and allowing multiple degrees of rotation in combination with our ECS Swivel Exhaust Tips, you have the ability to fine-tune the location of each component.
When paired with our standards of quality and design requirements here at ECS Tuning, we can humbly provide to you a perfect blend of performance matched with interactive driving pleasure.
Through multiple design iterations and stringent product testing, we have engineered our exhaust system to not only free up horsepower but to provide trouble-free installation.
Our ECS Valved Exhaust System was designed, engineered, tested and quality inspected by our Research and Development team in our Wadsworth, Ohio facility.
We strive for the highest level of precision and quality through leading-edge product development technology including FARO laser scanning for reverse engineering and quality inspection, SolidWorks 3D CAD modeling, rapid prototyping utilizing our in-house 3D printer, and rigorous long-term product testing.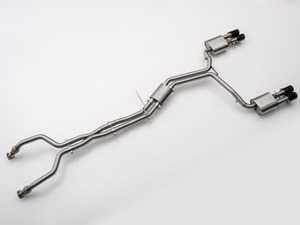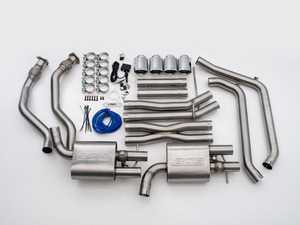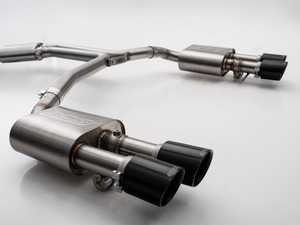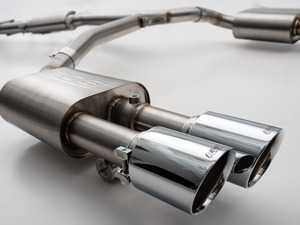 Features:
2.5" T304 Stainless Steel Mandrel Bent Tubing
1.5mm downpipe wall thickness - for added strength and durability
1.25mm wall downstream - reduces overall system weight
Integrated X-Pipe
Resonated (ES#3559666) and Non-Resonated (ES#3559667) sections also sold individually so you can change your system as you desire
1/2" Stainless Steel Exhaust Hangers
Welded in OE locations for precise fitment
Interactive Valved Muffler
Pneumatically controlled exhaust valves
Straight-through perforated core in Valve-Open position
Brushed T304 stainless steel muffler casing featuring stamped ECS logo
Dual Tailpipe Section
Retains dual tip fitment
Adjustable tailpipe to center section
ECS logo plate in center divide
Maximum Adjustability
Clamps allow several degrees of component rotation
ECS Swivel Exhaust Tips allow for precise fit and finish
Fully TIG Welded
Enough words... let's take a listen
ECS Audi B8 S4 Valved Cat-Back Exhaust
https://www.youtube.com/watch?v=gLw8CvSNajU
ECS Audi B8 S4 Valved Cat-Back Exhaust
Thread
Thread Starter
Forum
Replies
Last Post