Snow Performance "Beat the Heat" S2 Water/Meth Group Buy!
07-15-2010, 03:00 PM
Join Date: Feb 2010
Location: Baltimore, MD
Posts: 358
Snow Performance "Beat the Heat" S2 Water/Meth Group Buy!
---
We have been selling these kits like crazy this summer, and more and more people are keeping cool in the summer heat. Because of this, we decided to go even further on savings with our group buy. We need 10 people to get this order rolling, but we are giving out a FREE bottle of boost juice or FREE dual nozzle upgrade and FREE shipping for everyone in the group buy. This is for Stage 2 MAF or MAP controlled cars [up]. When ordering please specify the type of car and modifications to properly size your nozzles.

THE KIT IS $399 with FREE shipping and the FREE upgrade
Boost Juice vs. Dual Nozzle Upgrade
The boost juice is a hassle free way to get the perfect mixture of water and methanol every time. The free boost juice is for someone that wants a "set it and forget it" type of methanol setup. There is no mixing, finding the right fluids, etc. The dual nozzle setup is for those who want the most power out of their water/meth setups. By using 2 nozzles, you get better cooling (lower nozzle is placed at the FMIC/SMIC outlet to give it more time to atomize) and better detonation suppression (upper nozzle is placed by the throttle body for the best detonation suppression). Note that if putting the nozzle after the throttle body, the solenoid is needed to make sure fluid is not pulled into the engine. Please consider these options when choosing your setup
Please note the options you want as well as what you choose as your FREE gift!
1. BNZ TOY - Dual nozzle upgrade
2. claudio12401 (vortex member) - Dual nozzle upgrade
3. snackbarber - B7 A4 - Dual nozzle upgrade
4.
5.
6.
7.
8.
9.
10.
For those of you unfamiliar with water/methanol injection, it is one of the BEST modifications you can do for a turbocharged car. It suppresses detonation and reduces knock by cooling down the intake charge and reducing engine temperatures. Because of this, the opportunity is there to gain LOTS of horsepower and torque. It works by using a boost or MAF signal. The signal is sent to a controller, that drives a pump and injects a mixture of water and methanol into the intake charge.
There are many benefits:
- More Horsepower/Torque
- A safer engine altogether
- Better Gas Mileage
- General engine cleaning
- Ease of installation
Kit includes:
• Digital MAF or MAP referenced controller
• UHO pump for the most in pressure and volume
• Bulkhead fitting required to tap into factory washer reservoir
• 10 feet of tubing
• 2 nozzles to cover a wide range of horsepower
• All required hardware needed for installation
Come to RAI Motorsport for all your Snow Performance needs this summer!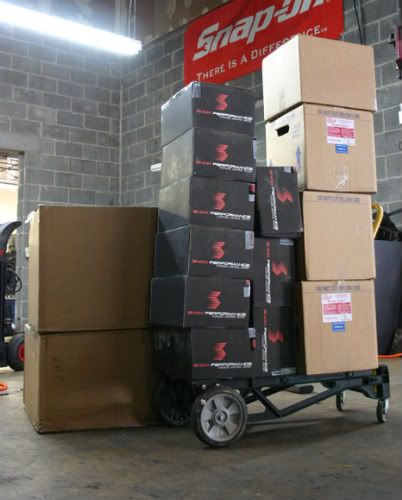 RAI Motorsport
3916 North Point Road Unit G
Dundalk, MD 20740
(443)242-6436
www.raimotorsport.com
Thread
Thread Starter
Forum
Replies
Last Post