MK1 rebuild
01-15-2014, 11:39 PM
MK1 TT rebuild
---
Well there arent many threads in here but I thought I would share my latest project with you guys. Its an 01 TT Quattro 180 that I bought off the auctions for a song. It was in pretty rough shape to start out even though from the pictures its hard to tell. I actually was talked into it by my dad who spends more time watching auctions than actually working. Damn govenment workers
Ill start out with this: I am NOT a body guy so going into it I was a little uneasy. I have always been comfortable with anything mechanical and I am a bit of a suspension junkie so I knew that part would be easy. This will basically be my way of learning fiberglass and paint.
So this is what I had to start with. Hood is straight and both lights got missed. Lucky because on a quick look they are around $700
I ended up tossing the bumper and fenders because I didnt want to screw around trying to repair them. Just for fun I called the stealership to see how much a new OEM front end would cost me. $2800 but he would discount it to $2200 for me since I was buying so much. No way.
I bought some Meyle HD control arms, tie rods/ends, and ball joints. Some new CV boots to finish it up and its nice and shiny underneath.
I aligned it and drove it around a little gremlins are coming out. PS pump is whining and im getting some clunks from the rear end. ABS light is on but from what I understand its a common problem. Ill get to those things later I guess.
Found a few fenders from the scrapper for $300 and a local guy had a new Duraflex bumper. A core support had to come from the stealership unfortunately.
Along with a quick polish on the headlights this is where I currently sit. big difference on the headlights but they need more. Not quite clear enough for my taste yet. I temp mounted the bumper until I have a chance to get it back on the lift and actually make some alignment adjustments.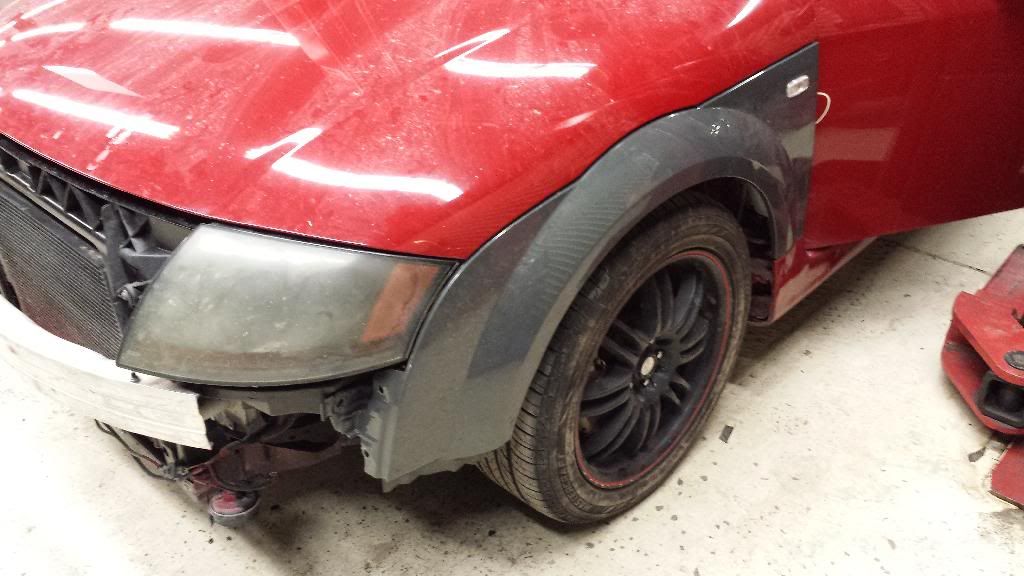 Any suggestions on mounting the bumper and getting the seams straight will be appreciated. I managed to get the fenders aligned pretty easily but the fiberglass bumper is pretty rough and the edges arent quite straight. Obviously its going to need a lot of prep. I still need to make the corners fit better and do a bit of sanding and filling. The plan is to paint the whole car so I dont have different colored panels and so i can take care of the clear coat rot on the back.
---
Last edited by TheSupervisor; 05-07-2014 at

12:15 PM

.
05-07-2014, 12:14 PM
---
Its been a while, super busy at work but I have had a couple days off to get back to work on it.
I started out by continuing work on my fiber bumper but I have realized that I just dont have the time to do the fiber work on top of painting the rest of the car so i ended up buying an OEM bumper even tho I like the look of the fiber one better
The fiber one is up for sale if anyone wants it. 400$ shipped.
I replaced the grilles with black ABS mesh and it looks WAAAY better, and they dont need paint
lower sides
putting a little curve to the main grill to match the curve of the bumper. A little bit of pressure and some heat to set it in. I had a few old pushrods laying around that were perfect for this.
and the final product
I am still looking at doing a honeycomb grille or something on the OEM bumper. not sure about badgless or not yet
I spent about a day an a half pulling plastics and stuff off to get ready for paint
Currently this is how it sits. I hope to have primer and sealer on today and maybe some paint later this week. Other than the initial damaged panels the rest of the car is really straight. A couple small dings and mostly just rock chips.
I have been considering a couple options for paint. All red the way it came, Audi QS...
or something along these lines
I cant wait to get it on the road so I can start wasting my time and resources on performance parts!
---
Last edited by TheSupervisor; 05-07-2014 at

12:20 PM

.
06-29-2014, 03:40 PM
---
Its been a while. I have been pretty busy with work but I realized I havent uploaded any final pictures.
I took the QS paint style and modified it a bit. The final design credit goes to a friend of mine but I still think it turned out really well. I still need to find some different wheels and probably some coils or springs.
Took about a 40 hours to cut and buff the clear coat but now it looks nice and shiny. The last month has been miserable not being able to wax it but finally I think it has outgassed and I waxed it. Really brought out the color and the depth of the black.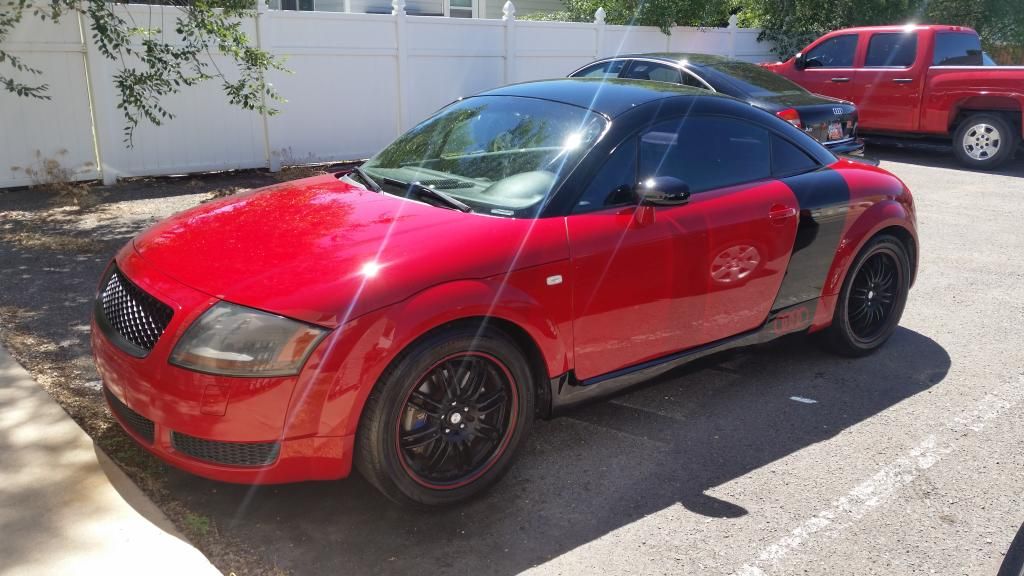 Thread
Thread Starter
Forum
Replies
Last Post