Aftermarket remote for central lock
05-12-2012, 08:33 PM
Join Date: Mar 2012
Posts: 1
Aftermarket remote for central lock
---
Hello!
I recently installed aftermarket remote central lock thing in my A4 B5 -97 and it has been working great.
Only thing that doesn't work though is the turn signal flashing, because I didn't connect the two brown wires from receiver to turn signal lights. It was hard enough to find the central lock pump wires from passenger side so I thought I could live without the flashing lights. But now I think it would be better to have those because sometimes I have no idea if I'm too far away from the car to lock the doors.
So my question is where is the easiest place to find those turn signal wires/connectors? The receiver is installed behind passenger glove box.
I've seen couple of not so good pictures trying to explain where the wires are but I haven't been able to find them yet
I think maybe colors and location of the wires or the connectors would help a lot!
05-13-2012, 11:44 AM
---
Diagram of a 97 Emergency flasher switch...that's pretty close to the glove box. The flasher unit is E3 in this drawing, and pins 2 & 3 connect to the left and right turn signals.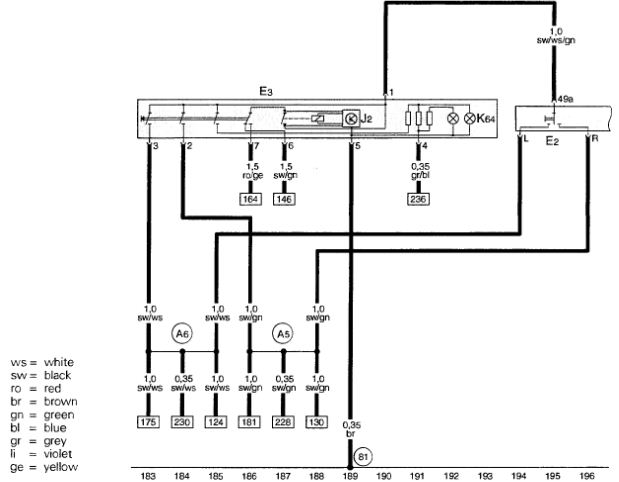 Thread
Thread Starter
Forum
Replies
Last Post